4/17/2016 – Mens Glee Club at Grace
Posted: 3/17/2016
The Men's Glee Club performed to a standing room only crowd a Grace Cathedral.  Many thanks to the USNA Parents for their exuberant marketing of the performances throughout the Bay Area.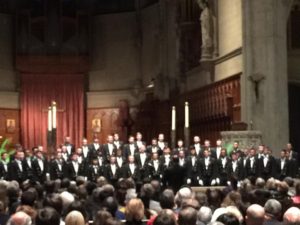 A highlight of the Grace evening was the singing of Navy Blue & Gold.  All the alumni were invited to join the club in the front of the cathedral for the singing of the first and last verses.
«
3/14/2016 – Mens Glee Club has Arrived
Stay in Contact
ALL ALUMNI -- To ensure you will receive important emails from the chapter, please keep your profile including your email address up-to-date with the National Association at
https://www.usna.com/sslpage.aspx?pid=528
.