119th Army Navy Game Watching Parties
Saturday, December 8, 2018
!!!UPDATED!!!
This year there will be multiple venues showing the game across the Bay Area!
Our Chapter is hosting two events
– North Star Cafe in San Francisco
– Old Pro in Palo Alto
We have also been cordially invited to other venues around the Bay Area. Links to registration & information on all events are provided below.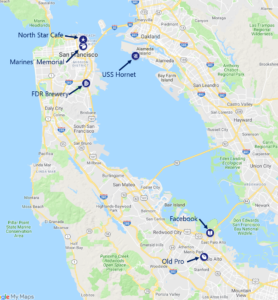 San Francisco:
Palo Alto:
Alameda:
Menlo Park:
GO NAVY! BEAT ARMY!
Stay in Contact
ALL ALUMNI -- To ensure you will receive important emails from the chapter, please keep your profile including your email address up-to-date with the National Association at
https://www.usna.com/sslpage.aspx?pid=528
.