Events, News & More
12/10/2016 – Army/Navy Watch Parties
Posted: 11/23/2016
Saturday, December 10 at 12:00PM PT
San Francisco:
LOCATION: North Star Cafe (1560 Powell St. San Francisco, CA 94133) Please note this is a 21+ venue.
MENU: Burgers, dogs, chips, and sides
PRICE: Members $5, Non-members $10
TO REGISTER: CLICK HERE
Palo Alto:
LOCATION: Old Pro (541 Ramona St. Palo Alto, CA 94301)
MENU: Taco bar, slider bar, salads and sides
PRICE: Members $20, Non-members $30, Children (2-18) $10
TO REGISTER: CLICK HERE
Notre Dame at the North Star ⭐️
Posted: 11/18/2017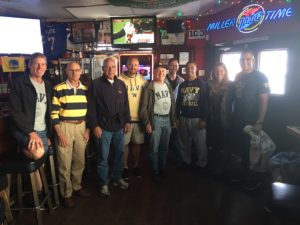 Great turnout at the North Star ⭐️ Café with visiting alumni from Camp Pendleton.
8/3/2016 – Superintendent's Happy Hour Reception
Posted: 7/26/2016
Superintendent's Happy Hour Reception
Marine Memorial: Wednesday, August 3rd
Don't miss this rare opportunity to meet the Superintendent right in our own backyard.
The Superintendent, Vice Admiral Walter "Ted" Carter (USNA '81), is making a West Coast swing next week and is excited  to meet our Chapter and give us an in-depth update on everything that's happening on the Yard. Mark your calendars for Wednesday, August 3rd from 6 – 9 PM for a cocktail reception at the Marines' Memorial Hotel. Registration is required, so please sign up today so we can plan accordingly!
Click Here to Register for Supe's Reception
9/3/2016 – Football Season Kickoff at the NorthStar
Posted: 6/2/2016
Please plan on joining us at the NorthStar saloon for our 2016 Season Kickoff event!
10/3-10/10 Fleet Week 2016!
Posted: 6/1/2016
Fleet Week returns to the Bay Area.  We are planning on once again having a great joint picnic with the Parent Club of Northern California. Due to construction on Treasure Island, there will probably be a change in venue this year.  Stay tuned for details of this great event.
7/16/2016 – Fourth Annual Summer Social
Your family and your canines are most welcome to join the fun with other USNA Bay Area alumni at our FOURTH annual summer social at the Lagunitas Brewing company in Petaluma.  Come early to get a great spot to sit and eat in the shade.
5/11/2015 – Chapter Leaders at ICOF
Posted: 5/11/2016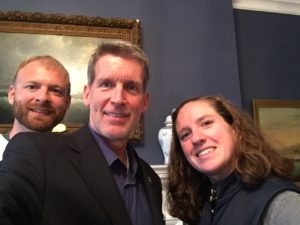 Three of the SF Bay Area Chapter leaders were in Annapolis for the Spring Board of Trustees meeting and the simultaneous International Chapter Officer Forum (ICOF).
5/8/2016 – All Academy Day at AT&T Park
Posted: 5/8/2016
Less than a week away! We've reserved a block of tickets for this year's All Service Academy Day at AT&T Park on Sunday, May 8th. Bring your family and friends to watch the Giants take on the Colorado Rockies. First pitch is at 1:05 PM, but we'll be getting together at Tres beforehand for some pre-game tailgating. To buy tickets – and for more information – click the button below.
UPDATE: As an added bonus for Mother's Day, our game tickets allow kids and moms on the field after the game to run the bases!
Buy Tickets for Giants Game & Tailgater
4/17/2016 – Mens Glee Club at Grace
Posted: 3/17/2016
The Men's Glee Club performed to a standing room only crowd a Grace Cathedral.  Many thanks to the USNA Parents for their exuberant marketing of the performances throughout the Bay Area.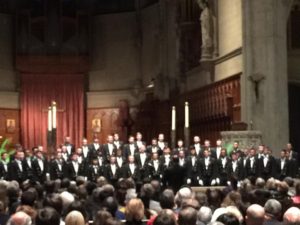 A highlight of the Grace evening was the singing of Navy Blue & Gold.  All the alumni were invited to join the club in the front of the cathedral for the singing of the first and last verses.
3/14/2016 – Mens Glee Club has Arrived
Posted: 3/4/2016
The Men's Glee Club has arrived for their week long tour of the Bay Area.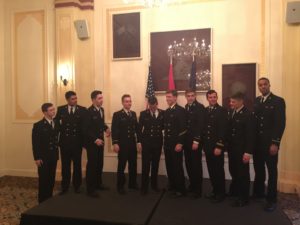 Check out their entire schedule and join them for one of the free concerts in East Bay or San Francisco
Stay in Contact
ALL ALUMNI -- To ensure you will receive important emails from the chapter, please keep your profile including your email address up-to-date with the National Association at
https://www.usna.com/sslpage.aspx?pid=528
.