Events, News & More
11/2/2015 – The Latest from the Mids
Posted: 11/2/2015
10/10/2015 Notre Dame
Posted: 10/10/2015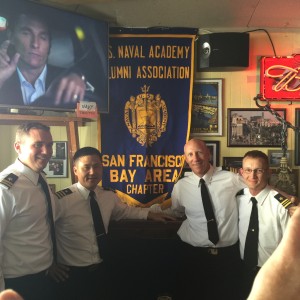 10/11/2015 Founder's Day Picnic & Blue Angels
Posted: 9/23/2015
We'll join forces with the Parents' Club of Northern California to help host this event. As an added bonus, this year we'll have a former Blue Angel from the Blue Angels' Association to act as airshow narrator! Sign-up by October 7thusing the link below.
WHAT: Fleet Week and Founders' Day Picnic
WHEN: Sunday, October 11 from 12 PM to 4 PM
WHERE: Fogwatch Picnic Area (3rd St & Avenue of the Palms on Treasure Island)
REGISTER: CLICK HERE (registration ends Friday night)
10/10/2015 – Notre Dame
Founders' Day is October 10! This year, an alum has made a generous donation to help promote the celebration of Founders' Day. All are welcome. Food will be provided for current chapter members – please sign up in advance. (Not a member? Sign up HERE!).
WHAT: NAVY vs Notre Dame
WHEN: Saturday, October 10th @ 12:30 PM
WHERE: North Star Cafe (1560 Powell St. San Francisco, CA 94133)
REGISTER: CLICK HERE
10/3/2015 – Navy vs Air Force Game Watches
Only 11 days until Navy beats the Falcons, and this year's game is at a reasonable hour! We'll have two viewing locations: one at our usual spot in the city, and for those in the South Bay: the Air Force Association of Graduates has invited us to join them at Skybox Imaging.
WHAT: NAVY vs Air Force
WHEN: Saturday, October 3rd @ 12:30 PM
WHERE:
San Francisco: North Star Cafe (1560 Powell St., San Francisco, CA 94133) This is a 21+ venue.
Mountain View: Skybox Imaging (1061 Terra Bella, Mountain View, CA 94943)
Spring Break 2016 – Men's Glee Club
Posted: 9/13/2015
The USNA Men's Glee Club will be visiting the San Francisco Bay Area for their spring 2016 tour.
See updated full details on our special GLEE CLUB PAGE
9/12/2015 – USNA Admissions Forum
Posted: 8/6/2015
The U. S. Naval Academy Admissions Staff will be holding an admission forum on Saturday morning, September 12th at the Kaiser Center in Oakland.
All local high school students who have applied to STEM, Naval Academy Summer Seminar and current candidates will receive a personal invitation in the mail.
5/24/2015 – Class of 2019 Appointment Dinner
Posted: 5/20/2015
The Naval Academy Parents' Club of Northern California have extended the registration deadline for this year's Class of 2019 Appointment Dinner in Palo Alto until Tuesday May 19. They have graciously invited any alumni who would like to attend, especially 2019's Another Link in the Chain Class, the Class of 1969.
WHEN: Sunday, May 24 at 5:30PM
WHERE: University Club of Palo Alto, 3277 Miranda Avenue, Palo Alto, CA
REGISTER and EVENT INFO: http://www.eventbrite.com/e/appointment-dinner-class-of-2019-tickets-16608564664
5/29/2015-5/31 Navy Womens Crew @NCAAs
Posted: 5/17/2015
The Navy women's rowing team swept the three-race slate of championship action on 15 May on the Cooper River to earn the 2015 Patriot League Championship and an automatic bid into the NCAA Championship which will be held at the Sacramento State Aquatic Center on Lake Natoma.  This is the same location where the Navy Men's Crew raced in the IRAs of 2009 and 2013.
Details
Where:
Sacramento State Aquatic Center
1901 Hazel Avenue, Gold River, CA 95670
How to get there:
Drive EAST across the SF-Oakland Bay Bridge, stay on I80 for a really long time, just before you get to Sacramento, look for the LEFT EXIT at the sign "Ocean City Maryland 3073 Miles" to get onto US-50.  Stay on US-50 for many more miles until you reach the Hazel Avenue exit.  If you get to South Shore at Lake Tahoe, you went too far, turn around and come back.
When:
Friday 29 May 2005 (Heats)

Saturday 30 May 2015

Sunday 2015 May (Finals)
See  NCAA website at http://www.ncaa.org/championships/division-i-rowing for more info.
7/11/2015 — 3rd Annual Summer Picnic at Lagunitas
Posted: 4/5/2015
July 11, 2015 (Saturday at 1:00 PM)
Our Summer Picnic at Lagunitas is back by popular demand. Join the USNAAA SF Bay Area Chapter for a casual, family-friendly afternoon of brews, bites and conversation at the Lagunitas Taproom in Petaluma. Bring your friends and take advantage of the huge outdoor patio, live music, delicious pub grub – and of course, all the Lagunitas beers on tap! Snacks will be provided.
WHEN: Saturday, July 11 at 1:00PM
WHERE: Lagunitas Taproom and Beer Sanctuary, 280 N McDowell Blvd, Petaluma, CA 94954
COST: FREE for members, Non-members $5
REGISTER: https://www.123signup.com/register?id=pgkdm
Stay in Contact
ALL ALUMNI -- To ensure you will receive important emails from the chapter, please keep your profile including your email address up-to-date with the National Association at
https://www.usna.com/sslpage.aspx?pid=528
.